Blizzard Hockey is part of a fund-raising even split draw with eight partners representing more than 1,000 players in CBRM.
Like and share it here: https://www.facebook.com/CBMinorHockeyPartners/
Regular season players are required to either sell 400 tickets (per family) or opt out of ticket sales for $200.

PRINTABLE DISPLAY SIGNS:
FULL COLOUR.jpg
BLACK AND WHITE.jpg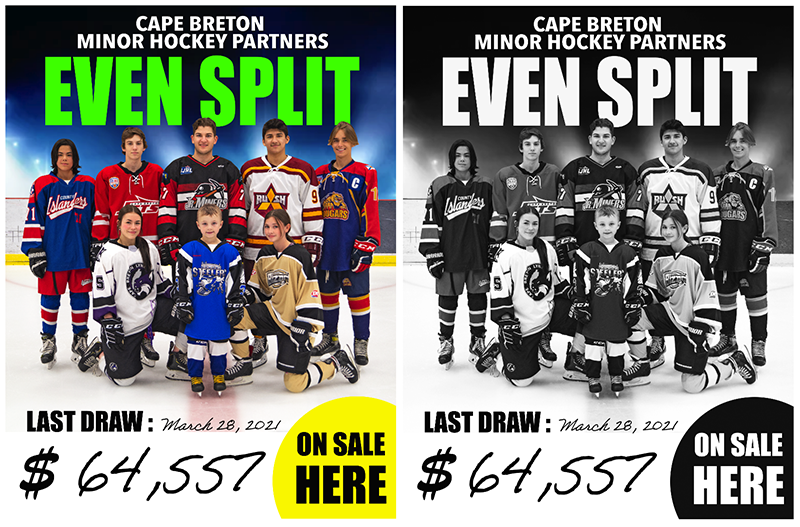 HOW TO:

Tickets are available for pick up and drop off on Sundays from Noon to 3:00 pm at Membertou.

The draw is EVERY SUNDAY at Membertou Sport & Wellness Centre.
The first draw of the season for is in late September. Date is announced online. There will be approximately 25 weekly draws.
You have to have all of your tickets sold by the final draw in March or April, and any unsold tickets turned in.
You will be billed for tickets that are not returned as unsold. Please take only the amounts you intend to sell.
The draw administrators don't want to print a lot of tickets that go unsold by the end of the season.

It is important that all players engage with this opportunity. It not only benefits your personal player account, at 25 cents per ticket sold, but it invests in the overall program like coach development, timekeepers, referees and year end awards and all the other development experiences that make great hockey moments for the kids.

HOW IT WORKS:
1. Pick up tickets under your player's name. Withdraw an amount of tickets that you estimate you will sell. Treat the tickets like money. You are responsible for ALL of your tickets. Any unsold tickets must be turned in before the last draw of the season. Tickets are valued at $1.00.
2. Bring the sold tickets and money to Membertou for drop off every Sunday between 12 noon and 3:00 pm before the draw. You can make arrangements for someone else to drop off your tickets if you can't make it.
4. The sold tickets are attributed to your player's account. You will be updated throughout the season about your totals and values.
5. Each Blizzard family must sell a minimum of 400 tickets. A player can opt out of ticket sale obligations for a $200 fee at registration. We strongly encourage families to choose the ticket sales route as it enhances the overall draw.
6. If you sell enough to cover your account balance, the remaining can be applied to next year's registration or sport and educational related costs i.e. summer hockey camps, travel and tournament costs, new equipment, etc.

This is an exciting opportunity to invest in the future of girls hockey in CBRM. Find your regular customer base and get selling!


House Rules of Play
Cape Breton Minor Hockey Partners 50/50 Draw

1. There is one 50/50 prize. The 50/50 prize value will be equal to half the 50/50 ticket sales revenue.
2. Tickets for the 50/50 raffle are priced as follows: 1 paper ticket for $1.00.
3. SMHA will administer the 50/50 draw.
4. Only SMHA and partner teams* will be distributed 50/50 tickets.
5. SMHA will collect and track all monies in a separate bank account for 50/50 revenue.
6. All unsold tickets must be returned at the end of the fundraiser.
7. A valid ticket for any draw is a ticket:
a. issued by SMHA and partners* for the purpose of the 50/50 draw;
b. the proper name and telephone number on the ticket written in a clear and concise manner so that it can be easily read;
c. printed by Breton Ability or such other printer so long as one sole printer printed all the tickets; and
d. is paid for in full.
8. For the mutual protection of lottery license, the organization and the public, SMHA has an obligation to ensure that the integrity of the winner selection process is maintained. Therefore, the amount of mandatory ticket sales required by each SMHA partner organization associate CANNOT be entered into a single draw. Tickets must be distributed over the course of the draws.
9. One 50/50 ticket will be drawn randomly by someone not associated with SMHA and/or partner teams. Two other people will be present to witness the draw. The name and ticket number of the winning ticket holder will be posted on the SMHA and team partners Facebook page and website.
10. The winner will be contacted by telephone and given instructions on how to claim his/her prize.
11. The prize draw will be held weekly at the Membertou Health and Wellness Centre, Membertou, NS, starting at an announced date in the fall and each consecutive Sunday thereafter until the final draw at the conclusion of the hockey season.
12. The winner need not be present to claim his/her prize.
13. There are no refunds on tickets.

*Cape Breton Minor Hockey Partners include: Sydney Steelers MHA, Cape Breton Blizzard FHA, Cape Breton County MHA, Cape Breton Lynx, Cape Breton Jets, Joneljim Cougars, Mitsubishi Rush, Membertou Jr. Miners
Ticket Locations:
SYDNEY AREA
A Bite of Asia
Aarc Salon and Spa
All Dolled Up Hair & Beauty
Animal Medical Centre
Ashby Legion
Big Ben's
Borden's Barber Shop
Cape Breton Auto Radiator
Cape Breton Regional Fire - Station 1
Cabot Physiotherapy and Massage Therapy Clinic
Cabot Powersports
Cedars Club
D'Addarios's Pizza Grand Lake Road
Docbraces
Doctor Luke's
Dulux Paints
East Bay Country Market
Feit Physiotherapy
French Club - 44 Ferry St Sydney
Healthy Touch Massage Therapy Clinic
Howie Centre Irving
Island Eyecare Welton St
Island Tire
Jed's Auto Repair Balls Creek
Jovy's Convenience
Just in Thyme
Kaiser's Locksmith
Kenny's Pizza - Sydney/ Sydney River
Landry's Vacuum Service
Louann's Café
M&M Meats
Mackley Equipment
MacLeod Lorway
Malcolm S MacDonald Sand and Gravel
Mark's Barbershop
Martin's Rite Stop Westmount
Membertou Skate Shop
Mercers Fuels
MacLeods Fuels
Napa Auto Parts
Needs - Coxheath
Needs - Howie Centre
Needs - Mira Road
Noelle's Country Market
Pharmasave - Downtown
Pharmasave - HealthPark
Pharmasave - Membertou
Play Palace Sydney
Refresh Body and Skin Care
Robins Donuts - Grand Lake Road
Rona
Rudderhams Source for Sports
Russel W. Hawkins Ltd (auto parts)
Seaboard
Sobeys - Prince Street
Sobeys - Sydney River
Speedy Glass
Steel City Sports Bar
Strong Chiropractic - Sydney River
Sullivan Fuels
Sydco Energy
Sydco Fuels
Sydney Mazda
Sydney Millwork
Sydney Mitsubishi
Tamarind Optical - Sydney River
Terrace Convenience
The Best of Cape Breton Gift Shop
Tony's Bakery
Travelodge Sydney
Ultramar Grand Lake Road
Waterside Pools
Welton Street Mini Mart
Westmount Rite Stop
Whitney Pier Discount Dollar Store
Whitney Pier - Henry Street Pub
Whitney Pier Market
Whitney Pier Pharmasave
Whitney Pier Post Office
ALBERT BRIDGE, CATALONE, LOUISBOURG
Catalone Convenience
Louisbourg General Store
Mira Ferry Market
Mullins Rite Stop
BRAS D'OR
Bras d'Or Corner Store
Les Day Insurance in Bras d'Or
Jane's Restaurant and Bras d'Or corner store
Petro Canada
ESKASONI
Eskasoni Petro
GLACE BAY & AREA
BP's Main Stop - Reserve Mines
Cabot Physiotherapy and Massage Therapy Clinic
Guardian - Glace Bay Pharmacy Sterling Mall
Joggers Lounge
Napa Auto Parts
Sobeys
Styles Ahead
Tamarind Optical
INGONISH
Wreck Cove General Store
Ingonish Irving
Ingonish Scotiabank
Ceilidh's Variety, Ingonish,
Cabot Trail Food Market, Cape North
NEW WATERFORD & AREA
Both Dollar Stores
Fraiser's Convenience
Fat Boys
KOC
Needs Plummer Ave.
Needs Convenience Dominion
New Waterford Convenience
Post Office
Strong Chiropractic
NORTH SYDNEY & AREA
Robins - Sydney Mines
Sobeys